What's Good?! It's that time again to drop some list sh*t for you and this time I wanted to stay a little closer to what we at CSNW know most about. Hip Hop has gone through a lot of changes since it first hit the music scene, and at its current status, has been influenced by a large amount of trends that have shaped the way Hip Hop is created and given out to the public. I could talk about Shell toes and Kangol hats but I felt there are things that have pushed Hip Hop further in a much larger sense. F*ck it, let's get started with this weeks What's Good Wednesday!



The Hype man
Although you don't see it that much these days, having a hype man was as essential to a hip hop set as the DJ. I bet if you asked Chuck D how important Flavor Flav was to the success of Public Enemy, he would probably say that he owes Flav a whole bunch of big ass clocks. Not only did the hype man get the crowd into the whole performance, but they carried the whole mood of a show in their hands as much as the headliner. If you could consider him a hype man anymore, Puff dancing around Biggie in shiny ass suits was a gimmick that people remembered and then became an empire. Yea, I'm saying Spliff Star was probably as important as Busta in Flipmode. Aight maybe not, but you can't doubt the importance of Proof to Eminem.

Artists Producing Their Own S*it
I'm not hating on artists who don't produce their own work, but with all the hip hop artists out there who are starting to get into the habit, some rappers have to step their game up. There are a lot of artists out there who don't produce and are still great artists but the trend of rappers who do seem to be setting a trend which brings Hip Hop to the next level. When Kanye first dropped College Dropout, one of the biggest aspects of Kanye's steeze was the fact that he produced most, if not all of his tracks. Bringing in that versatility into the game was something that a lot of artists at the time didn't do, and those who could were considered to be on top.

Sampling
Some hate the idea of sampling music for their own reasons, but sampling has brought some of the most influential artists in Hip Hop to the forefront. From DJ Premier, Tribe, J. Dilla, and to Kanye, sampling has created sounds that only could be possible through accessing other artists music. I'm not talking about Vanilla Ice sampling Queen for his Ice Ice Baby beat. I'm talking about sampling to produce classic tracks that have defined certain generations. Before 1998, no one thought that someone could flip a track from the Annie and make it into a Hip Hop Classic. Let's face it, sampling brought producing to a different level.

Influence on Clothing and Style
A lot of critics of Hip Hop would say that rappers creating clothing lines is one of the worst trends in Hip Hop, but there are reasons why it actually was dope. Hip Hop has been steadily growing in the influencing popular culture, even outside of the music genre. Whatever artists in Hip Hop were wearing, best believe there was a group of people who dressed the same way. From selling merch, to creating huge clothing companies, artists are taking their creative knowledge into something that people can connect with in ways that can only be shown through are style. When Hov and Puff were the biggest things in the industry, so were RocaWear and Sean John, turning your regular MC into moguls they are now. Need I say more?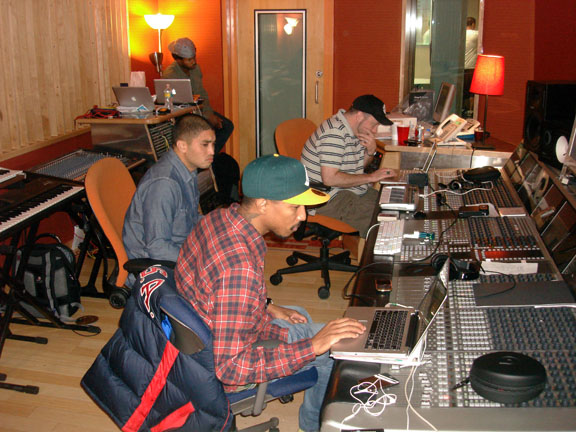 Big Time Producers
Do you remember The Neptunes? Back in the early 2000′s, it was hard to come across a track that was produced by Mr. Skateboard P and Mr. Hugo. The top tier producing duo were pretty much celebrities themselves in Hip Hop as any other artist that they produced for. What The Neptunes brought was a new sound that was reminiscent of Dilla and Preemo, which was something that people could vibe with as far as producing goes. Timbaland among others became who they are today by building a career upon making solid beats that MCs could spit over and remix. Even today, producers like Chuck Inglish and Hit Boy are defining a new generation of producers that are working hard in the game and putting out solid Hip Hop sounds.

Free Music
Whenever Jay-Z drops an album, there is hype that begins months ahead of time. However, many artists are starting to move away from making albums and are beginning to focus on giving out free music through mixtapes and random singles. You can hate on the whole digital age of Hip Hop and the inflation of so-called MCs that are coming out blogs and Facebooks all over, but for the people doing it right, free music has been the easiest way to get themselves out there to be heard. As much as there are wack rappers, there are just as much great rappers out there that are being heard through the way of distributing free music. Artist like Wale have come up in Hip Hop through a catalog of mixtapes that he released starting back in 2005, and has elevated his status into one of the front runners in the game today. From nothing to something, the digital age of Hip Hop has brought a new outlet to MCs everywhere to present their talents, and provide some comedy through wack ones.

Scratching
Even today, many people say that music sounds best when it comes from vinyl and still only listen to music on wax. Scratching was the shit back when DJs still rocked on vinyl. Hailing from the bay was DJ Q-Bert, who defined the entire culture of DJs scratching and elevated the craft to what could be considered to be its own separate sub-section in Hip Hop along with B-Boying and graffiti. While Serato is cool and shows how music has changed, the scratching of vinyl hits a certain chord with Hip Hop heads. You can say that scratching is a lost art in Hip Hop, but best believe there are people that are still keeping the culture alive.

East, West, North, South? Naw, just Hip Hop.
Back in the 90′s Hip Hop obviously took a turn towards something that was more than music, and turned into more into personal beef that influenced two coasts. That's in the past now though, and Hip Hop is/has been heading in the direction of artists not essentially focusing on where the music is coming from but the people that it connects to. When Jay Electronica first hit the Hip Hop scene, no one thought that a dude from New Orleans could spit with that style and cadence, but of course he was that guy. Even today, we see artists like A$AP Rocky, Kendrick Lamar, and Big K.R.I.T are more focused on the quality of the music, rather than where the music comes from. Maybe it's the fact that Hip Hop has grown past that kind of era of Coast to Coast beef, but the direction it has taken is a beautiful thing.

"Cars, Chains, Girls"
Aight, I might get some hate on this one, but that time in 2000′s was probably the peak of which Hip Hop had the most attention and influence. While this trend hasn't completely died out, it's taken a slight dip from what it used to be a few years ago. Who remembers Mannie Fresh and Birdman stuntin' balling the f*ck out in the Still Fly video? Or how about B.G. talking about looking icy in "Bling, Bling"? Yea it wasn't the most invented as far as lyricism goes but everyone was on Escalade, Hummer, Video Vixen, looking iced up tip. Hip Hop took what was unnecessary as far as living comfortably goes and turned it into the essential for any rapper's starter kit. Rappers were balling till they died, or at least until they went bankrupt and that sh*t was so icy.

Independent Artist > Signed Artist
One of the biggest trends in Hip Hop has been the refocusing of artist becoming successful in being independent rather than being signed to a major label. Back in the days, the Dogg Pound was killing sh*t as independent artist, and then transformed into the Hip Hop legends that we know them to be today. Even MCs like Mac Miller are breaking down the common idea that success comes from being signed. Mac was the one of the first people in a long time to debut their album at the top of the Billboard charts (selling 144,000 units) while still being independent. Artists like Casey Veggies, Odd Future among others have been coming out of the woodwork through their own independent releases and banking off of shows and merch. Even festivals like Paid Dues and Rock The Bells have emerged from the idea of independent Hip Hop artists and now is the example of what point artists are striving to get to.