What's Good?! I'm back again this week still riding the hype from the beginning of the 2012 Summer Olympics in London from last week. So far, we're behind China like we always are at the beginning, but after today's events, it looks like we're going to pull ahead. With all the crazy talented athletes that we have coming from around the world, there is a nice amount of athletes from the U.S. that have their eyes set on grabbing the gold. From swimming to basketball, it's GOLD OR BUST for our country, so let's just get into this week's list!

Michael Phelps
America's most decorated pot head is celebrated for a very good reason. As of yesterday, with 19 medals, 15 of them being gold, Michael Phelps has become the most decorated Olympic athlete of all time. You can say what you want about his "illegal" pot use, but if the dude can still swim with smoker's lungs, then imagine him if he didn't have them. Mr. Phelps hit a bump in the road over the weekend when he placed 4th in trials, but ever since then he has been winning nonstop. Looks like all of those 5 dollar footlongs have been sponsoring him pretty well.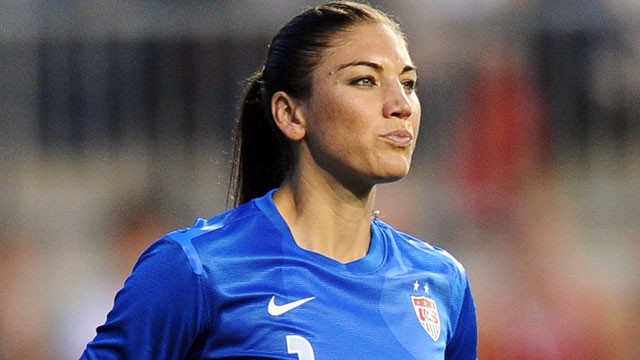 Hope Solo
After losing to Japan 1-0 during last year's World Championships during penalty kicks, best believe that the U.S. Women's soccer team is going into the Olympics with a reason to win. So far it looks like the team is back on their shit with wins over Korea and Columbia with nothing stopping them as of yet. The girl under the net has proved to be one of the most important parts of the team with her clutch stops. Not only is she ridiculously talented, but she is also one of the better looking girls in the olympics, and that's saying a lot. With Hope Solo keeping the net, best believe that no one is going to score on this team any time soon. With Abby Womback and Alex Morgan on her side, nothing is stopping this team.

U.S.A Basketball Team
Aight this pick isn't exactly one athlete but I got to make an exception for this one. Kobe and Lebron say that this team can beat the '92 Dream Team, and how they are playing right now, you can't exactly doubt them. Jordan says they can't, but in every game they have been easily beating every team that they have faced, especially Tunisia yesterday. With D-Rose, Dwayne Wade, Dwight Howard, Amar'e Stoudemire, and Blake Griffin out, the team looks like can't be stopped. When one of the largest free agents this summer (Deron Williams) is playing the bench, you know you have a solid team. Let's hope Kobe can keep himself out of some girl trouble, and get Lebron some Rogaine and this team will be set for Gold.

Ashton Eaton
While this guy has been completely flying under the radar for a large amount of these Olympics, people are saying that this guy is the best all-around athlete of the games. As a decathlon athelete, Eaton performs in about 10 different events, and he does it with the skills of a world class athlete. Why is he flying under the radar? Well because the U.S. barely pays attention to decathletes. However, I bet you that when these games are over, people are definitely going to know this kid. After breaking decathlon world records a few weeks ago, Ashton is set to win the gold with ease. Yea China, let's see if one of your 16 billion can beat this dude.

Lolo Jones
In track and field, the name Lolo Jones has been another one that has been pretty low key, but pretty you're going to be hearing it a lot more. She only placed 3rd in the Olympic qualifying rounds but many analysts are projecting her to get the gold in the events that she is going into for these Olympics. When you do see her name out on the track, pay close attention to what she's gonna do, because it definitely will be some career defining shit.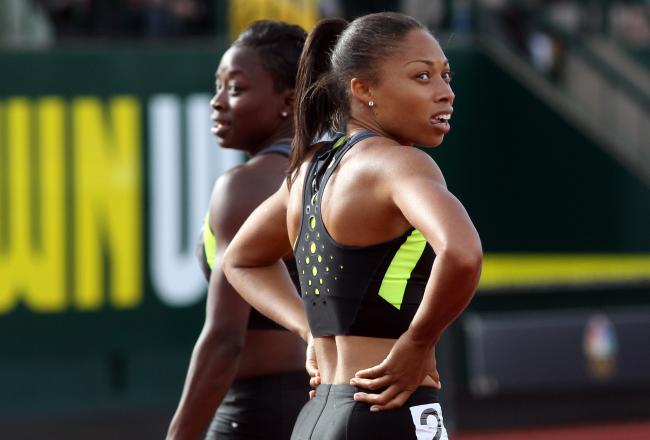 Allyson Felix
Allyson Felix raced back in Athens in 2004 and Beijing in 2008, hoping to pull of a gold like all other athletes, but she was only met with a Silver medal. This year, Allyson Felix is back and looking to pull off the dream that she was so close to reaching in the last Olympic games. After winning Bronze and Silver in the World Championships last year, Felix was burnt out from all the races she had competed in, and many questioned whether she could perform well in these games. With the doubt, Allyson Felix claims that she definitely has gotten a lot better and is looking to get the Gold this time around and complete what she's been going for for 8 years.

Jonathan Horton
You can make jokes about gymnasts, but these athletes have crazy amounts of athleticism and power that many other athletes can't even equal up to. One of the gymnasts making some noise these Olympics is Jonathan Horton, who has won medals two times before. Horton stated that these Olympic games aren't about him, and it's about the U.S.A teaming winning a gold, but that doesn't take away any of the attention that has been put on him. With his events coming up pretty soon, analysts are claiming that Horton and the rest of the U.S. Men's team is set to be the best team since the 1984 Gymnastics team that won a gold back in the 1984 Los Angeles Games.

Claressa Shields
Let's face it, the sport of boxing is one that is mainly dominated by the male side of the sport with very little attention being payed to the women's side of it. Aight it's like that in almost all major sports, but that's not the point. The point is that Claressa Shields is one athlete that is looking to bring attention to the women's side of boxing and made a statement by winning gold this year. In the first round, she already has a "bye" so you won't get to see her until the next round. With ridiculous speed, power, and footwork, Claressa has been waiting to get to this level to show how far Women's boxing has come. If you get tired of watching speed-walking, best believe you'll see some good shit in the Women's boxing ring with Claressa Shields in there.

Serena Williams
No explanation is required here, but let me provide some insight into what Serena Williams has been up to. Coming off her Wimbledon win this year, Serena Williams is looking to beast through these Olympics. Without having won a gold medal in singles, Serena definitely has her eyes locked on bringing out the gold by the end of these games and completing her Olympic legacy. If you don't like tennis, then you won't be watching her, but that would be a really big mistake.

Ryan Lochte
After beating Michael Phelps this past weekend, people took a double take on Ryan Lochte for his performance in the pool. Although he is Michael Phelps teammate, he is the biggest enemy that Phelps will face throughout these Olympics. Even though people think that this dude came out of nowhere, he has been racing and beating Michael Phelps on a few occasions. He's already beat Phelps in these Olympic games once, so who's to doubt that he won't him this week again. Even though they homies, best believe that their will be some competitive action going on in the pool between Lochte and Phelps during the rest of these Olympics.